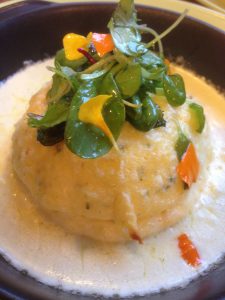 This is a favourite in our house. DB suggested he'd like a blue cheese sauce next time.
I think that would work nicely as well.
The wonderful thing about this recipe is you can freeze the souffle's and have a little stock handy when you need to impress or just can't be bothered.
Ingredients:
Souffle:
60g unsalted butter
40g plain flour
1 cup warm milk
60g fresh goats curd cheese
20g parmesan cheese, finely grated
1 tablespoon finely chopped flat leaf parsley
1 tablespoon finely chopped chives
3 egg yolks
4 egg whites
Soufflé sauce:
1 tablespoons olive oil
1 clove garlic, finely chopped
1 cup pouring cream
40g fresh goats curd cheese
½ tablespoon parmesan cheese, finely grated
Method:
Refrigerate four 180ml capacity soufflé moulds.
Boil a large saucepan of water.
Melt butter in a small saucepan, remove from heat and lightly brush chilled moulds with  butter, refrigerate moulds again until ready to fill.
Return the remaining butter in pan to low heat, stir in flour and cook for 2 minutes. Gradually pour in the warm milk, stirring continuously until mixture boils and thickens.
Remove from heat; add cheeses, parley, and chives, season to taste with sea salt a freshly ground black pepper, then stir until well combined.
Whisk in egg yolks, one at a time, then transfer mixture to a deep bowl. Using a electric mixer, whisk egg whites with a pinch of salt until stiff peaks form, gently fold 1/3 the egg whites into the warm cheese mixture to loosen, then fold in remaining egg whites until just combined.
Divide soufflé mixture among moulds, then place in a roasting pan, pour in enough boiling water to come two-thirds of the way up sides of moulds and bake at 180°C for 16 mins or until risen and firm.
Remove soufflés from water bath and cool for 5 minutes: Soufflés will deflate. Using a small knife, carefully ease soufflés out of moulds and place each in a 20cm gratin dish.
Soufflés can be frozen for later use at this stage.
Soufflé sauce:
Heat olive oil in a saucepan, add garlic and cook over low-medium heat for 1-2 minutes or until fragrant, but no colour. Add cream and cheeses and bring to the boil.
Remove from heat, season to taste.
To Cook:
Spoon 1-2 teaspoon of water around each soufflé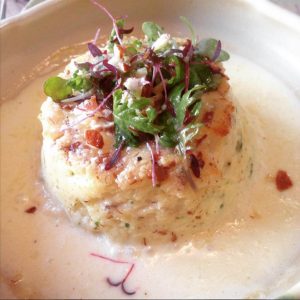 and bake at 180°C for 8-10 minutes or until the outside of the soufflé starts to colour.
Pour a quarter of the sauce over each soufflé and bake for another 2-3 minutes or until the soufflé starts to puff out and sauce starts to colour around the edges of the gratin dish.
Remove the souffles Top soufflés from the oven and top with a dressed micro salad if desired.
Serve immediately.