I made two types of homemade pasts this week using two slightly different recipes.
First up was a basic pasta that I made into fettuccine and then an egg yolk pasta for the rag pasta that went with the duck ragu.
BASIC PASTA:
This recipe can be catered to any quantity as long as you keep the ratio of 1 egg to 100g flour.
Ingredients:  serves 3
200g OO flour
2 eggs
Method:
Place flour in a bowl and make a well in the centre. Add the eggs and using a fork, whisk lightly, bringing the flour into the centre until the dough comes together and the flour is combined. Turn out onto a lightly floured surface and knead for 3 – 4 minutes or until the dough is smooth. Wrap in cling wrap and place int he fridge for 30 minutes to rest.
Divide the dough into 2 equal (approx. 150g) portions. Set the pasta machine to position 1 and pass one portion of dough through he machine. Repeat 6 times, folding the dough onto itself each time. Dust with extra flour if necessary.
Set the pasta machine to position 2 and pass the dough through once. Repeat on each setting until the machine has reached setting 5.
Depending on what you want to use the pasta for, either continue to pass through the machine while changing the setting until as thin as desired, or attach the desired cutting roller and pass the pasta sheets through.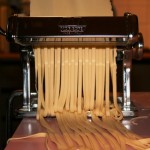 Hang the cut pasta over a suspended wooden spoon for 30 – 60 minutes.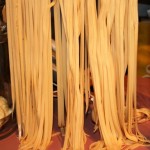 Cook the pasta in a large saucepan of salted boiling water for 3 – 5 minutes until al dente.
EGG YOLK PASTA:
Ingredients:  serves 2
100g OO flour
4 egg yolks
½ teaspoon olive oil
pinch salt
Method:
Process all ingredients in a food processor until the mixture resembles damp breadcrumbs. Turn out onto a lightly floured surface and knead for 3 – 4 minutes or until smooth; the dough should feel quite smooth and neither dry nor wet.
Cut dough into two portions and wrap half in cling wrap to prevent it drying out. Follow the process above after dividing the dough.
I used this dough for rag pasta and ran it through the pasta machine until setting 8 and then cut the pasta into approximately 4cm squares. Drop into salted boiling water and cook for 1 – 2 minutes and then drain immediately.