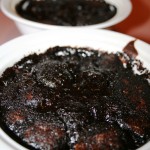 This is a lovely twist on the classic chocolate self-saucing pudding. From the MasterChef Magazine Issue 12.
Makes 6

Ingredients:
40g unsalted butter, plus extra for greasing
2 pears, cored, peeled and cut into 1cm pieces (I used beurré bosc)
1 cup self raising flour
¾ cup firmly packed brown sugar
¼ cup ground almonds
1/3 cup roasted, slivered almonds
¾ cup milk
100g dark chocolate, chopped (70% cocoa solids)
1 egg, lightly beaten
Chocolate Sauce:
70g unsalted butter, chopped
¾ cup firmly packed brown sugar
35g Dutch cocoa
Method:
Preheat oven to 180°C
Grease 6 x 310ml (1¼ cup) ovenproof dishes with softened butter. Divide the pears amongst the dishes and set aside.
Sift the flour, sugar and ground almonds into a bowl and then stir in the slivered almonds.
Place milk, chocolate and butter in a saucepan over a low heat and stir until smooth. Cool for 2 minutes, then whisk in egg until just combined. Pour over the flour mixture and stir until just combined. Spoon mixture evenly among the dishes.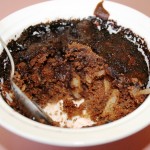 Make the chocolate sauce by placing the butter, sugar, cocoa and 300ml water in a small saucepan and bringing to the boil over a medium heat. Whisk while heating to dissolve the sugar. Pour sauce over the dishes.
Bake puddings for 25 minutes or until puffed and tops are firm to touch. Stand for 5 minutes.
Dust puddings with cocoa and serve immediately with double cream or vanilla ice cream.