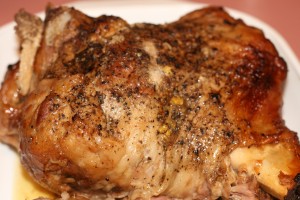 For roast lamb, I usually use a slow cooker with red wine, garlic, herbs and root vegetables. I wanted something a bit different to try, so I went hunting on the interweb and found this one that used white wine, maple syrup & lemon. Keen to try something new I adapted it for the slow cooker and eagerly awaited the long 7 hours until I could try it. The result was a beautiful sweet lamb with a lovely light gravy. Sorry no lovely pictures for this one, I mean really, anyone who is Australian knows what roast lamb looks like??!!
Ingredients:
2 kg lamb leg
Salt and ground black pepper
Olive oil
¼ cup white wine
1 cup chicken stock
4 shallots, thinly sliced
6 whole garlic cloves, crushed
12 sprigs fresh thyme
1 lemon, rind finely grated
1/3 cup pure maple syrup
Method:
Season the lamb leg with salt and pepper. Heat oil in a hot frying pan and brown the meat all over. Transfer to the slow cooker. 
Pour pour over the wine and stock. Sprinkle the lamb with the shallots, garlic, lemon rind and thyme.  Drizzle over the maple syrup, making sure all surface of the lamb is covered. Season again with a generous amount of salt and pepper.   
Cover with lid and cook on low for 7 hours.  Remember that every time you open the lid, you need to add 20 minutes cooking time, so walk away and let the slow cooker do its thing.
Remove the lamb and allow to rest 15 – 20 minutes. Don't bother trying to carve the meat as it will fall straight off the bone and melt in your mouth.
While the meat is resting, strain the juices from the slow cooker and use enough of the strained juice to make a gravy using a roux from flour and butter.