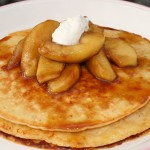 I saw these on Taste.com.au and had to give them a go. I have doubled the sauce in the recipe as I thought I needed more "juice". Give them a go for your next Sunday brunch.
Ingredients:
Pancakes:
1 cup plain flour
1 tablespoon baking powder
1 cup rolled oats
2 tablespoons brown sugar
600ml buttermilk
2 eggs, lightly beaten
2 teaspoons vanilla extract
60g butter, melted, cooled
Greek yoghurt, to serve
Caramelised Apple:
50g butter
4 granny smith apples, peeled, cored, cut into wedges
1 cup brown sugar
4 tablespoons water
Method:
Pancakes:
Sift flour and baking powder into a bowl. Stir in oats and sugar.Make a well in centre.
Whisk milk, egg and vanilla together in a jug. Add to well. Stir until just combined. Stand for 30 minutes.
Drizzle with melted butter. Stir to combine.
Heat a large non-stick frying pan over medium heat. Spray lightly with Canola Spray.
Spoon 1/4 cup mixture into pan, spreading with back of spoon to form a round pancake. Cook for 2 to 3 minutes or until bubbles appear on surface. Turn and cook for 2 to 3 minutes or until cooked through. Transfer to a plate. Cover loosely with foil to keep warm.
Repeat with remaining mixture, spraying pan with Canola spray in between batches.
Caramelised Apple:
Melt butter in a frying pan over medium-high heat. Add apple. Cook, turning, for 3 to 4 minutes or until golden.
Add sugar and water. Cook, stirring, for 3 – 4 minutes or until sugar has dissolved. Bring to the boil. Reduce heat to low. Simmer for 8 – 10 minutes or until slightly thickened.
Divide pancakes between plates. Top with yoghurt and apple mixture.