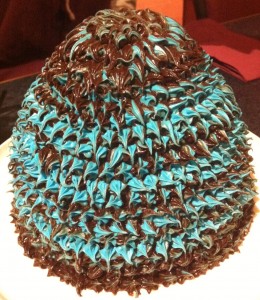 OK, so I know it looks like a giant tea cosy. But I wasn't sure what kind of cake to do for the boy who doesn't like cake. The result, after lots of Googling, was the pinata cake. A hollowed out cake filled with lollies. Unfortunately the icing was starting to get a but warm as I got to the top and started looking a little melty.
I used a Dolly Varden mold for the cake. Thanks to the DB for getting it from the cake shop for me and having to go through the torture of explaining to the lovely sales lady that no, he didn't need the dolly to go with it. I had not really explained what a Dolly Varden Cake was 🙂 Also a thank you for baking the cake for me as I was running short of time. What a guy <3
The original idea was based on a post by Claire K.