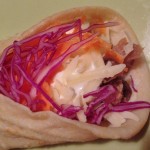 I did a recipe awhile ago for leftover pulled pork, which I made into risotto. Here is the pulled pork recipe from Adeline & Lumierie's Pulled Pork Winter Tacos.
With a few tweaks of course 😉
NOTE: the spice rub makes much more than what you need, but is great to have on hand for next time as it saves you making it from scratch again
Make sure you start this recipe 2 – 3 days ahead to allow for brining and overnight slow cooking.
Ingredients:
Pork Spice Rub: 
3 tsp ground cumin
3 tsp garlic powder
3 tsp chilli powder
3 tsp cayenne pepper
3 tsp salt
3 tsp paprika
½ cup brown sugar
Brine:
½ cup salt
½ cup brown sugar
3 tbs spice rub
Slow Cooked Pork:
1 – 1½ Kg Pork Shoulder (Tell your butcher it is for Pulled Pork)
750 ml Apple Cider
750 ml Apple juice
Pork Spice Rub to cover (see recipe above)
Tomato Bean Sauce:
400 g can of crushed tomato
400 g can Black Beans
1 onion, finely diced
2 garlic cloves, crushed
2 tbs pork spice rub (see above)
Sour cream sauce:
3 heaped tbs sour cream
3 heaped tbs Greek yoghurt
1 tsp lime juice
pinch of salt
sprinkling of paprika
Tortillas: (makes 10 x 15 cm tortillas)
1 cup plain flour
¼ cup Semolina
¼ cup Polenta
pinch of salt
1 egg
1 ¾ cups water
Garnishes/Veges:
grated purple cabbage
grated carrot
grated vintage cheese
Fresh coriander leaves
Method:
Pork Spice Rub:
Make the spice rub by mixing all the ingredients together. Store in an airtight container until needed.
Brine:
Mix all the ingredients with 500 ml of water in a bowl, bucket or container big enough to hold your pork shoulder submerged. Add the pork and cover with water until fully submerged. Give a stir to make sure the salt and sugar is dispersed and refrigerate for a minimum of 8 hours, but overnight is better.
Slow Cooked Pork:
The next day, remove the pork from the brine and pat dry with paper towel. Cover the meat with spice rub (if you feel you want to use a lot, leave 3 tablespoons for the spicy tomato sauce).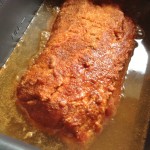 Place the pork into your slow cooker and cover with Apple Cider
and Apple juice until just covered.
Cook on low for 12 – 16 hours.
Once the pork is cooked, remove from the slow cooker and shred into a heat resistant container. Refrigerate until needed.
Place the liquid from the slow cooker into a saucepan and bring to a rolling boil. Reduce until the bubbles are small and not "popping" anymore. This should take about an hour. You will be left with a very spicy reduction, that is not thick. Pour enough of this liquid over the shredded pork and mix in, so that the pork is nice and moist but not swimming in juice. Refrigerate enough for your tacos and any leftover you can vacuum seal (once cool) and freeze for a quick snack in the future.
Tomato Bean Sauce:
Heat oil in a frypan on med-high and add the onion. Brown the onion then add the garlic and spices. This is quite spicy, so if you want it a bit tamer or kid friendly, reduce the spice mix down. Cook until fragrant. Add the remaining ingredients. Cook for 5 – 10 minutes, until combined well and flavours have infused.
Soft Tortillas:
Add all ingredients together and beat until smooth. Once smooth, add a small ladle full of mixture to a non stick frypan (do not use oil or butter). Cook until the edges brown slightly, flip and cook the other side. Sprinkle a little water onto some aluminium foil and stack the tortillas on the foil. Wrap and place in the oven on low to keep warm until you serve them.
Sour Cream Sauce:
Mix everything together except the paprika. Sprinkle with paprika and refrigerate until needed.
Heat the pork, tomato sauce and tortillas. Lay everything out on the table and get everyone to help themselves.