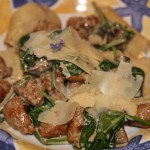 This recipe is adapted slightly from MasterChef Magazine #29 and was a hit. Rather than the normal two thumbs up for a good meal, it got a two thumbs wiggled,  while trying to shove a fork-full into the mouth, rating. I take that as two thumbs plus rating.
This really was very delicious, the best pasta I'd had in ages…… if I don't say so myself…..                                                          Serves 4
Ingredients:
4 large or 6 small gourmet sausages, casings removed and discarded (I used italian pork & beef)
1 tablespoon butter
250g portabello mushrooms, thickly diced
2 cloves garlic, crushed
2 sprigs rosemary, leaves torn off
300ml cream
1 tablespoon Dijon mustard
200g fresh lasagne sheets (or make fresh pasta)
180g baby spinach
shaved parmesan to serve
Method:
Using a mortar and pestle, bruise the rosemary leaves with a little rock salt, added as an abrasive.
Heat fry pan over medium high heat and cook "chucks" of the sausage meat. Turn for approximately 5 minutes until golden and cooked through. Remove from pan and set aside.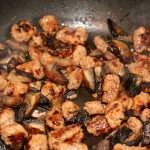 Add the butter and the mushrooms to the pan and cook, tossing for 5 minutes until tender. Add the garlic and rosemary and cook for a further 3 minutes, until fragrant.
Return sausage meat to pan with cream and mustard and stir until sauce thickens, approximately 3 minutes.
Bring a saucepan of salted water to boil over high heat. Gently tear pasta sheets into squares. If you are a little bit anal you can cut the pasta sheets so that they have nice straight edges. Add to boiling water and cook for 3 – 5 minutes or until al dente. Drain.
Add spinach to the sauce, remove from heat and toss for 1 minute until wilted. Add pasta and gently toss until combined. Season with salt and pepper, taste first as you have already added salt with the rosemary leaves.
Divide among pasta bowls and scatter with parmesan to serve.