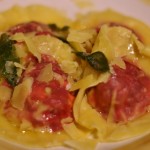 I was looking through an old Feast Magazine and saw this recipe and had to try it while I was on a beetroot roll!
I was able to use fresh sage from my new plant for the sage butter sauce, which i am sure made it taste so much better.
I used 2 x quantities of egg yolk pasta.
Ingredients:
1 egg, lightly beaten with 1 teaspoon water for egg wash
Beetroot Filling:
4 small medium or 2 large beetroot bulbs, roasted, peeled and grated
150g ricotta
2 tablespoons Panko breadcrumbs
salt and pepper to season
Sage Butter Sauce:
60g butter, chopped
2 tablespoons fresh sage leaves
grated Parmesan to serve
Method:
Make the pasta as per the instructions, separate into 4 portions, wrap in cling film and set aside.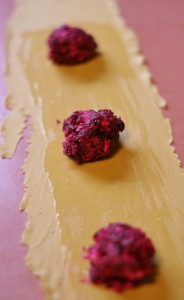 Mix all the filling ingredients in a bowl and refrigerate until needed.
Using one portion of pasta at a time, roll out on a lightly floured surface until about 5 mm thick. Using a pasta machine, starting on the lowest setting and feed through the pasta, making the setting narrower each time, until you have a thin sheet of pasta. I stopped at the setting 8 on my machine.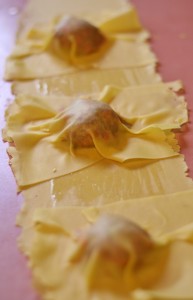 Cut the pasta sheet in half and brush one half with egg wash. Place heaped teaspoonfuls of beetroot mixture at intervals along the centre of the pasta sheet.
Cover the mounds with the other half of the pasta sheet, using your hands to press around the mounds and remove any air bubbles and seal the pasta together. You can lay the whole sheet over or cut pieces to fit like I did.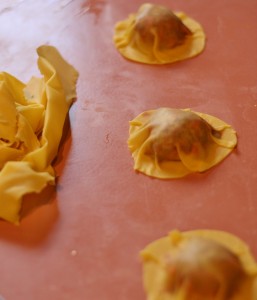 Using a cookie cutter or knife, cut around the mounds, leaving a 1 cm "skirt" around the ravioli. Set on baking paper while you continue working to help avoid the pasta sticking and then tearing when you try and pick it up to cook it.
Repeat with the remaining pasta sheets and filling until you run out of either pasta or filling.
Set a pot of salted water to boil to cook the ravioli. While it is boiling, make the sauce.
To make the sage butter sauce, melt the butter over a medium heat until foaming. Stir in the sage leaves ad cook for a few minutes until the leaves start to crisp. Keep warm.
Cook the beetroot ravioli in 4 batches. Place in the boiling water for about 4 minutes, they will float to the surface when they are ready. Transfer to a pasta bowl or plate and contine cooking the rest of the ravioli.
To serve, drizzle with the sage butter sauce and sprinkle with Parmesan.